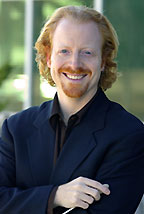 Jeffery Meyer
Artistic Director and Founder of the St. Petersburg Chamber Philharmonic (www.st-pcp.org) Director of Orchestras, Ithaca College School of Music (www.ithaca.edu/music/)

Born in Chicago, Jeffery Meyer began his musical studies as a pianist, and shortly thereafter continued on to study composition and conducting. He is the founder and Artistic Director of the St. Petersburg Chamber Philharmonic in St. Petersburg, Russia, as well as the Director of Orchestras at the Ithaca College School of Music. Jeff is also the Orchestra Director at LSM Academy and Festival, a summer festival for talented high school musicians. He has appeared with orchestras in the United States and abroad, including ensembles such as the Milwaukee Symphony Orchestra and the Syracuse Symphony Orchestra. In recent concert seasons, he has been seen conducting, performing as piano soloist and chamber musician, as well as conducting from the keyboard in the United States, Canada, Russia, and Germany.
An active participant in the music of our time, he has collaborated with many composers, and commissioned and premiered many new works. Recently he made his Glinka Hall conducting debut in the final concert of the 43rd International Festival "St. Petersburg Musical Spring", featuring works by three of St. Petersburg's most prominent composers.
He has been featured numerous times as both a conductor and pianist as part of the " Sound Ways" International New Music Festival in St. Petersburg, Russia. As a pianist, Jeff has been in residence at the Banff Centre for the Arts, and in residence at the Aspen Festival as part of the Furious Band, a New York-based group dedicated to contemporary music. He performs frequently with percussionist Paul Vaillancourt as part of the piano and percussion duo Strike.
He has been broadcast on CBC, has recorded and performed with the Philadelphia Virtuosi ( Naxos), and has been heard as a soloist at the Aspen Festival. During the 2001–2002 academic year he lived and studied in Berlin and Leipzig as the recipient of a DAAD grant in music, during which time he wrote incidental music to David Mamet's Duck Variations, which was performed throughout Berlin by the theater group Heimspieltheater.
He was selected as a semi-finalist in the 2004 Pedrotti International Competition for Conductors, a finalist in the 2003 Vakhtang Jordania International Conducting Competition and a semi-finalist in the 2003 Beethoven Sonata International Piano Competition, Memphis, Tennessee. He was also recently selected to be included in the 60th Anniversary Edition of Who's Who in America.
In addition to performing in masterclasses for such artists as Richard Goode, John Perry, Gyrgy Sebk, Robert McDonald, and Leon Fleischer, he has studied chamber music with Julius Levine, Charles Neidich, and Timothy Eddy. He has worked with conductors such as Gustav Meier, Bridget Reischl, and Robert Spano. Jeff holds degrees in piano as well as composition and completed his Doctorate of Musical Arts in Piano Performance with Gilbert Kalish at the State University of New York at Stony Brook.
Jeff is an active adjudicator, guest clinician, and masterclass teacher. He has adjudicated throughout the United States, including Alaska, as well as at the Hong Kong Schools Music Festival. He has served on the faculties of the Dorian Keyboard Festival, Blue Lake Fine Arts Camp, Marrowstone Music Festival, and Lutheran Summer Music Academy and Festival.

go back

go top

go home

russian version