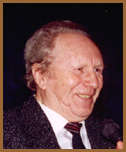 Khromushin Oleg
Composer, Honored artist of Russia, a Professor, Oleg Khromushin was born in 1927 in the town of Salsk in Rostov region. From September of 1944 till 1950 Oleg served in the Red Army and was taking part in WWII. But in April of 1950 he was repressed on report and sentenced to 10 years of camps. Soon after Stalin's death in 1954 Khromushin was released under the amnesty decree. Music was one of the main means to survive for Oleg while being in camps.
After the release Oleg Khromushin works in the town of Stavropol (Tolyatti, present days) which is on the Volga River, and from January of 1956 he starts to work in Moscow, for the organization "Circus Staged" which for he sets up a vocal-and-instruments ensemble. Later, while on studies at the Musical College of the Rostov-on-Don city, being in composition class, Oleg conducts an orchestra housed in "Rodina" movie-house. Because of the repressions Oleg started his high professional education late, actually at the age of 32, when he entered the conservatory and graduated in the year of 1964 in composition class of professor V.N. Salmanov.
Khromushin's name got already known while in Conservatory for the reason he had been writing music for two leading orchestras of the country; namely for the Lenradio conducted by A. Vladimirtsov and the USSR Gosteleradio conducted by Y. Silantyev. Oleg Khromushin's final course work was unusual for the time - he worked over the composition of a sympho-jazz creation, later recorded by both the above mentioned orchestras. After the graduation Oleg was sent to work for Lenkontzert where he became artistic director of a jazz-orchestra on concert tours.
Since May of 1964 Oleg Khromushin is a member of the Union of Composers for Russian Federation.
The main trait in Khromushin's music is cheerfulness since each of his compositions is addressed to the most common of listeners. He is the author of operettas, radio-musicals, variety art miniatures and songs, as well as of a concert for organ and symphony orchestra, written according to the canons of classical music.
Jazz and serious music intertwined in Khromushin's creative work really. The composer can match professional knowledge of academic genres with the jazz and modern variety art skills. That is why many of his work bear the name of "Dialogues".
Creating dialogues, between dixiland and a big-band, between a string- and a jazz- orchestras, a bit-group and a symphony orchestra, the composer combines various genres' traits. Thus he creates his dialogue.
Respecting sympho-jazz, Khromushin nevertheless considers as to be more of a perspective so-called "third direction", where the major is not a synthesis but polyphony of genres, and the specificity of such -- being untouched. For example in his forte-piano concert, jazz and academic music have more and more intricate relationships.
After his daughter was born and thanks to newly founded Big Children's Choir of the USSR's Gosteleradio, named after V. Popov at the beginning of 1970s, Khromushin started to write the music for children. Performed by that particular choir his music sounded throughout the Soviet Union plus in a number of foreign countries as well - in USA, Japan, Germany, Bulgaria. Some time afterwards, Khromushin started to write music for another children association - for the Lenradio choir conducted by Y. Slavnitzsky and S. Gribkov. In 1978 -- for his song "How many of us?" -- Oleg got the First Premium at the "Children's Musical Holiday" international contest. The song is a favorite one and was translated into many languages for children in the different corners of our world to sing it.
By rhythms and inflexions of modern variety art music the composer fills in the traditional forms his opera "The Boy with green fingers" (after a fairy-tale of M. Druon), mini-opera "Surgery" (after a story of A.P. Chekhov). He skillfully combines the elements of variety art music pioneers' songs tradition in his cantatas. It is important that the songs of Khromushin count for actual possibilities of the children choir. His songs for children sound new and modern, so they are easy to be recollected.
At recent, Khromushin has been doing big pedagogical work, in particular, on enlargement of pedagogues' for musical schools repertoire, collecting things from classical and modern jazz. He has his collection of works under the name of "Jazz Compositions in Repertoire of A Children Musical School" present almost in every modern school. The composer became the author of the first in Russia "Jazz Solvegio" and of "A Textbook on Jazz Improvisations for A Children Musical School" as well.
For many years Oleg Khromushin has been constant member of the Aesthetic Commission for international festival, "Russia's Composer - to Children", which has been annually held by the Russian Federation Union of Composers in different cities of Russia.
In 2002, Russia largely celebrated Oleg Khromushin's 75th Birthday. The composer received a number of wireless from the government and on April 12 in Moscow, in the Chaikovsky Chamber Hall, there was a concert specially devoted to him, where various Moscow choirs and instrumental collectives performed. The composer himself received an interview, both on radio and TV.
Photo Album of Oleg Khromushin

go back

go top

go home

russian version