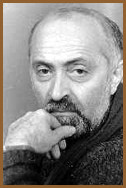 Bubelnikov Pavel
The main conductor of "Zazerkalye" State Musical Theatre, Honored artist of Russia.
Born in 1944.
Graduated from St.Petersburg Rimsky - Korsakov State Conservatory in 1970.
1968 - 1993 - conductor in Musorgsky Opera and Ballet Theatre. There were more than 80 performances in his repertoir: "Eugeny Onegin", "Iolanta", "Swan lake", "Nut-Cracker" by Tchaikovsky; "Aleko" by Rachmaninov;"La Traviata", "Don Carlos" by Verdi; "La Boheme", "Tosca" by Puccini; "Giselle" by Adan; "Coppelia" by Delibes; "Romeo and Juliet", "Cinderella", "Le Chout" by Prokofyev; "Petroushka", "Le sacre du printemps" by Stravinsky and others.
Was the musical director of Menotti's "Medium" production (the first staging in Russia - 1979).
Carried out stagings of Verdi's "Il Trovatore", 1983 at the S. Paliashvili Opera and Ballet Theatre (Tbilisi) and "Crystal palace" ballet (to the music by Bizet, 1996) at St-Petersburg Mariinsky Opera and Ballet Theatre.
In 1987 became one of the founders of "Zazerkalye" State Musical theatre for Children in Saint-Petersburg, where nowadays he is the main conductor. As a musical director has carried out more than 20 performances at this theatre: "The Children album " by Tchaikovsky, "The shepherdess and the Chimney-sweep" by Bach, "Magic flute" by Mozart, "The story of a soldier" by Stravinsky, "L'Elisir d'Amore" by Donizetti, "Les contes d'Hoffmann" by Offenbach etc.
Organized "Zazerkalye" chamber orchestra performing concert programmers.
The winner of St. Petersburg Government prize in the field of the literature, art and architecture for the unique contribution to developing an opera art for children (1996).
The winner of the "Gold Spotlight" Prize (1996) in "The Best Conductor" nomination for "L'Elixir d'Amore" by Donizetti.


go back

go top

go home

russian version