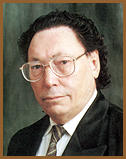 Shestalov Uvan Nikolaevitch
Poet, laureate of the Russian State Prize, professor of UNESCO chair "Theory of education in polycultural society" in the Russian State Pedagogic University named after Gertzen.
Uvan Shestalov was born in 1937.
Works of Uvan Shestalov take their origin in mansi folklore, as the poet belongs to the mansi nation. He tried to make legends and sagas of his nation vivid and sound modern without losing their old history.
The first book of Uvan Shestalov was published in mansi language in 1958. His poems impressed the audience greatly by a specific melody of words. His first story (1964), which began his literature career, was published in the Soviet Union not once and was translated into foreign languages.
The author collected all his best works in a book named "A Heathen Poem" (1971), for which he was awarded with the Russian State Prize. In this book he tried to show a real Northern man.
U. Shestalov writes much for children
Now U. Shestalov lives in St. Petersburg. Since 1991 he publishes "Sterkh" journal, the purpose of which is to bring Finno-Ugric nations together, revealing uniqueness of each one.
There are various estimations of U. Shestalov works, but, any way, they have formed a base for mansi literature.


go back

go top

go home

russian version