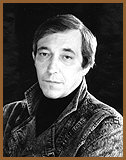 Shestakov Yuri Mikhailovich
Born January 13, 1949 in the village of Bogoslovka, Kursk region. Lived in Leningrad since the age of seven. Graduated from Lensoviet Institute's Faculty of Physics and Chemistry.
Became laureate of the Leningrad Komsomol Prize in literature in 1986. Became a member of the U.S.S.R. Writers' Association in 1988 by recommendation of poets Arseny Tarkovsky, Sergei Davydov, Leonid Ageyev and of the National Council of Young Writers.
Completed Higher Literary Courses in Moscow in 1993.
Yuri Shestakov's first poetry collection, titled "Beginning of a Day" (Lenizdat publishers) was published in 1983.
His book of poetry titled "Waves of the Earth" (Young Russia publishing center, Moscow, 1992) was awarded the A. Fet National Literary Prize (1997).
His book "Attentive Sky" has been published in 1998 (Society for Support of the Arts, Moscow).
Yuri Shestakov is the author of literary scripts for such poetic cinema films as "In the Beginning Was...", "Two Homes", "Rejoice!" (Lennauchfilm studio). His poetry has been published both in Russia and abroad.


go back

go top

go home

russian version