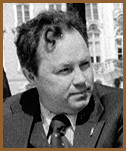 Kuznetsov Vyacheslav Nikolayevich
A Russian poet born on October 20, 1932 near Jarkul railroad station (Aktyubinsk region, Kazakhstan, U.S.S.R.). He considers the city of Penza, where his parents originated from, to be his hometown. His mother Valentina Andreyevna Kuznetsova (1910-1978) was a doctor, his father Nikolai Dmitrievich Sukhov (1912-1941) a professional military officer who served as a company's political instructor and died a heroic death in the war. V.N. Kuznetsov graduated from the Ninth Special Aviation Forces School of Kazan with a silver medal in 1950 and from Leningrad's Red Banner Aviation Engineering Academy named after A.F. Mozhaisky in 1956. He completed the Higher Literary Courses under the U.S.S.R. Writers' Association in 1960.
V.N. Kuznetsov has spend two winter seasons (1956-1958) working as an engineer in Russia's Arctic regions. He became a member of the U.S.S.R. Writers' Association in 1956. In February, 1996 he was elected Corresponding Member of the Petrovskaya Academy of Arts and Sciences.
He published his first poem in 1949. His first book, containing a poem titled "Dreams" was printed in Penza Book Publishing House in 1954. V.N. Kuznetsov is the author of four lyrical trilogies: "Blood of the Fathers" (1955-1961), "By the High Latitudes" (1958-1961), "Feeling of Land" (1962-1964) and "Continent" (1970-1982). His creative output is most fully and noticeably reflected in his one-volume selection of works titled "The Steps" ("Fictional Literature" publishers, Leningrad, 1984). His lyrical trilogies are devoted to the heroism of the Soviet people in the battles of the great war with Nazism, to the sons and daughters of those who gave their lives to the cause of Victory, to the Romantic lifestyle of Russian Arctic frontiersmen, to the patriotic feelings of Russians along their way to the Great Pacific Ocean. V.N. Kuznetsov's individual poetry cycles and books, such as "Island of Time" (1967), "Overcoming" (1971) and "Light in the Heart" (1985), are dedicated to philosophical contemplations of subjects like time and self, human soul and conscience. His books written after the beginning of Russia's recent period of reforms, such as "Century" (1992), "This Is the Middle of Life" (1995), "About You" (1997), "A Star in a Stream" (1998) and "Russian Wedding" (1999), turned out quite striking and dramatic.
V.N. Kuznetsov devotes a lot of his soul's resources to poetic translations. He has translated poetry from some minor languages of Russia (such as Khanty and Komi), from Kazakh and Lithuanian. His poetry has been translated into Kazakh and Armenian.
Kuznetsov's works became a part of numerous poetic anthologies of our time. He became laureate of many poetic contests and awards, a member of the Petrovskaya Academy of Arts and Sciences, a Professor and Corresponding Member of the International Slavic Academy of Arts, Science and Culture. A part of his personal archive is stored in the building of the St. Petersburg Archive of Russia's Literature and Art. Over 40 books of V.N. Kuznetsov's poetry and translations have been published.


go back

go top

go home

russian version