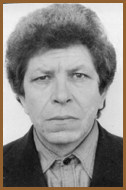 Komarov Aleksandr Yurievich
A poet born in Leningrad on September 4, 1945.
Served in the military, worked at "Svetlana" factory. Worked as a journalist since 1972, collaborated with "Izhorets" and "Electric Device" large-circulation newspapers. Independent journalist since 1992.
Member of Russia's Writers' Association since May 28, 1991.
First publication in "My Svetlana" collective poetry edition (Lenizdat publishers, 1965).
His poetry has been published in such literary magazines as "Neva", "Aurora" and "Rechitativ".

go back

go top

go home

russian version