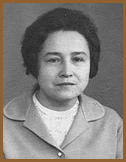 Baturina Tatiana Petrovna
Born on January 13, 1928 in Baku, Azerbaijan in a lawyer's family. Lived in Stavropol since 1941. Accepted to Moscow State University in 1945. Attended the graduate studies program at the University's Soviet Literature Department. Defended her Candidate's degree on M. Gorky's short story series "Tales about Italy" and "Across Russia" in 1954.
Moved back to Stavropol in 1954, where she first worked at "Stavropolskaya Pravda" newspaper and later as senior lecturer at the city's Pedagogical Institute (Department of Russian Literature).
T.P. Baturina has paid a lot of attention to literary criticism and to issues of modern literature studies in her work career. She became a member of the U.S.S.R. Writers' Association in 1970. She currently is a member of Russia's Writers' Association. T.P. Baturina has at first been a member of a commission on criticism for about two decades, and later (since 1980), of Russia's Writers' Association's Council on Criticism.
Tatiana Baturina has for many years been a member of "Stavropolye" anthology's editorial council. She was also a member of the editorial council of Stavropol Book Publishing House.
Awarded the U.S.S.R. Writers' Association and Goskomizdat Prize in 1977 for the manuscript of her book titled "A Torch to the Heart", dedicated to general issues of Soviet literature development.
Lives in St. Petersburg since 1990.
T.P. Baturina has published 8 books and about 200 articles on issues of 20th century Russian literature in various periodicals. At the present time she is researching the works of A.P. Bibik and of modern St. Petersburg writers.


go back

go top

go home

russian version