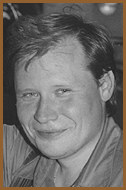 Akhmatov Aleksei Dmitrievich
Born in Leningrad February 8, 1966.
Most of his childhood was spent in Severomorsk, a city beyond the Northern polar circle.
Admitted to Petrozavodsk Pedagogical Institute's Physics and Mathematics Faculty, which he left after a year in 1984. Graduated from Leningrad's Radio Technical School #38 in 1985.
Married, has a son named Arseny. His wife Yelena Mikhailovna Akhmatova (pen-name Yelena Zhabinkovskaya) is a poet, a graphic artist and a professional editor.
A.D. Akhmatov worked as a proofreader in the U.S.S.R. Academy's of Sciences Library, as a security man and as a manual worker in the Russian Museum. At the present time A.D. Akhmatov is senior editor of "Culture" publishing complex and a lecturer of the advanced poetic group in "Challenges" youth club.
Participant of 18th and 19th "Young Writers of the North-West" conferences and of National Conferences in Moscow in 1988 and 1994.
Member of Russia's Writers' Association since 1994, author of three collections of poetry and of various publications in periodicals.
A.D. Akhmatov's social activity includes his leadership of "Young St. Petersburg" society's poetic section under Russia's Writers' Association and of St. Petersburg Writers' Organization.
A.D. Akhmatov's poetry has been published in such magazines as "Neva", "Aurora", "Zvezda" and "Post Scriptum".


go back

go top

go home

russian version