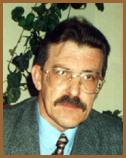 Zlobin Aleksander Aleksandrovich
Director General, JSC Pozharny (Fire) Trust, lieutenant colonel of the internal reserve.
Born on April 6, 1953, in Novoshakhtinsk, Rostov Oblast. Married, two adult sons. After school entered the Rostov-on-Don School of Electrical Engineering, department of fire engineering and safety (1968). In 1972 graduated the school as a fire technician. In 1972-1974 served in the Army. From June 1974 till July 1997 worked in fire prevention service of St. Petersburg, making a career from a junior inspector of a district department to a head of the Main Department division. Since 1998 heads JSC Pozharny (Fire) Trust.

go back

go top

go home

russian version