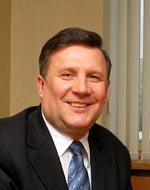 Zarenkov, Vyacheslav Adamovich
Professional Builder, General Director of Holding "Etalon-LenSpecSMU".
Born in 1951 in Byelorussia. Graduated from Leningrad Civil Engineering Institute. Candidate of Technical Sciences, Candidate of Architecture, Doctor of Economics, Professor of Saint-Petersburg State University of Architecture and Civil Engineering, Member of the Russian Academy of Natural Sciences, Honorary Academician of the Russian Academy of Sciences. Author of a number of patented inventions, monographs and more than 100 scientific articles. Honored Builder of the Russian Federation.
From 1973 to 1986 worked in Glavzapstroy, was promoted from a fitter to a head of a department. Took part in the implementation of more than 100 industrial and residential projects. In 1987 founded and headed ZAO "LenSpecSMU", a first-rate construction company in Saint-Petersburg nowadays. The Holding's share in Saint-Petersburg construction market is 20%. Under the direction of V. Zarenkov the company has built about 40 buildings and complexes, which defined the face of new districts.
V. Zarenkov - the author of new progressive technologies in construction. Combined Constructive-Technological System (CCTS), worked out by him, combines firm monolithic skeleton and light protecting constructions. CCTS makes it possible to implement original non-standard architectural projects.
V. Zarenkov is awarded Golden Medal of Association of production assistance of France. He is the President of International Fund of Historical and Cultural Monuments Restoration. Numerous sponsoring activities include trusteeship of schools and restoration of churches. He is awarded several honors of the Russian Orthodox Church. 29 of May 2004 Zarenkov was awarded the most significant public award of the Russian Federation – "International Glory award" – for great personal contribution in international economic and cultural relations' development.
In his spare time Zarenkov is engaged in painting, he is a participant of many arts' exhibitions.

go back

go top

go home

russian version