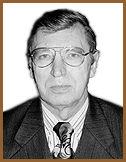 Trofimov Nikolai Alekseyevich
General Director and General Constructor of Special Machines Construction Bureau (SMCB). Well-known specialist in the development of startup equipment for space rocket complexes, laureate of State Prize, member of K.E. Tsiolkovsky Aerospace Academy and of the International Academy of Information Technology, corresponding member of the Russian Academy of Rocket and Artillery Sciences and of St. Petersburg Engineering Academy. Born May 16, 1935 in Kolomna (Moscow region) in a military man's family. After completing secondary school studies he was admitted to Leningrad Military Mechanics Institute. He graduated from it successfully in 1958 and was directed to work at Central Construction Bureau #34 (SMCB's former name). Nikolai Trofimov started working there as senior technician and later became Chief of a department, Deputy Lead Constructor of the complex, Lead Constructor and (since 1987) head of SMCB.
Under Nikolai Trofimov's leadership and with his direct participation many unique products in the area of space rocket systems were developed, tested and put into operation. These include the well-known artillery launching system S-300 PMU and a railroad startup complex.
For accomplishments in developing special technology Nikolai Trofimov has been awarded the Orders of Red Banner of Labor (1971) and of October Revolution (1976). He has 32 author's certificates and patents. Awarded the titles of Accomplished Mechanical Engineer of Russia and of Accomplished Railroad Worker of Russia. Married, has a grown-up daughter and two grandchildren. Spends his rare spare time gardening or driving.

"Special Machines Construction Bureau" (SMCB) federal state unitary enterprise has been created by decree of the U.S.S.R. State Defense Committee on March 8, 1945 and its objective was to develop artillery weapons for navy ships. It was then called Central Maritime Artillery Construction Bureau and was headed by the well-known artillery system constructor General Lieutenant I.I. Ivanov.
Self-propelled marine and shoreline artillery devices developed by the enterprise surpassed foreign analogues in their tactical and technical characteristics and were for a long period of time used by the Russian Navy.
Since 1960 SMCB has been the leading enterprise in the country involved in the design of launching equipment for space rocket complexes of various purposes. Today it is a part of the Russian Aerospace Agency.
Startup systems developed and put into operation by SMCB include Russia's first space launching complex called "Sheksna", a railroad startup complex, startup devices for above-surface and underwater takeoff of winged missiles and S-300 PMU artillery launching system.
SMCB is one of the country's main developers of optical and radio telescopes with mirrors ranging in diameter from 1 to 70 meters, of antenna devices with short and long wavelength ranges, of stationary and mobile bases for space radio communications, space research and TV broadcasting.
In order to create an integrated Earth-Space communication system, SMCB has developed designs of spaceship antennas with high precision pointing mechanisms able to resist shaking. These antennas have been mounted on "Cosmonaut Yuri Gagarin", "Cosmonaut Pavel Belyayev", "Cosmonaut Vladislav Volkov", "Cosmonaut Georgi Dobrovolsky", "Cosmonaut Viktor Patsayev", "Academician Korolev", "Marshall Nedelin" and "Marshall Krylov" space research ships.
In 1978 RT-70 radio telescope designed by SMCB with a mirror 70 m in diameter has been first put into use. After more than 20 years of operation it still complies with all modern requirements for such instruments.
Over the past 40 years SMCB has participated in the following space programs (domestic and international):
"Vostok", "Soyuz", "Salyut", "Soyuz-Apollo", "Venus", "Vega", "Buran", "Granat", "Astron", "Mir", "Phobos", "Mars", "Modernization", "Resource", "Interball", "Marine Start" and "Dniepr".
Aside from developing antenna devices, SMCB participated in the creation of special technology for the development and testing of space devices on land. These included:
TVU-10000 heat vacuum chamber;
manipulation aggregates for assembling space carrier rocket blocks;
SMCB also develops and supplies unified security and defense systems for industrial enterprises, amortization systems for protecting ecologically hazardous objects weighing under 1,000 tons from seismic activity.
SMCB has been awarded the Orders of Lenin, of the Red Banner of Labor and of October Revolution.
In 1989 SMCB became a self-financing enterprise.
Despite cutbacks in state orders, SMCB has not only survived the new economic system, but also was able to occupy new sections of the industrial markets of Russia and of the CIS.
At the present time SMCB, while remaining Rosaviacosmos's main enterprise for the development of land equipment for space rocket complexes, also develops and supplies equipment that controls distribution devices of traction substations and hermetized driving gears for tram points. It carries out export orders for India and Egypt, develops and supplies railroad cranes capable of lifting 80 to 150 tons. SMCB has developed transportation and packing complexes with concrete-and-metal containers for prolonged storage and transportation of used nuclear fuel from nuclear power plants and energy devices servicing the Russian nuclear navy.
The enterprise has been awarded two gold and two silver medals for items demonstrated at "Brussels Eureka" international invention exhibition in 1996, 1997, 1999 and 2000.
In 1999-2000 SMCB has participated successfully in "Marine Start" and "Dniepr" international programs that involved sending "Zenit" space rocket and a British satellite to space.
The enterprise's long experience in designing, manufacturing, mounting, testing, and providing support for special technology for army and navy, its qualified personnel, unique experimental base, powerful bank of technical solutions, structural flexibility and multi-profile capacities make it able to create complex technical systems for nuclear energy industry, for purposes of oil and gas extraction, for city transportation, for lifting devices, for agriculture, for the textile industry and for commercial satellite launchings.
The enterprise's certified quality of products and of repair services, its secure cooperation policies provide a sound basis for its further development in market economy conditions.


go back

go top

go home

russian version