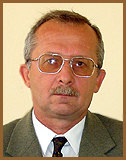 Senchurov Vjacheslav Aleksandrovich
Deputy Head-Chief Designer of special equipment, the North Design Bureau.
Born in 1950, in Severodvinsk.
Graduated from the Instrument Faculty of the Leningrad Mechanical Institute in 1973.
After graduation was assigned to the North Design Bureau.
Made a career, starting from a design-engineer, the head of a sector, a deputy chief designer to a deputy head-chief designer of special equipment (1988).
A specialist in designing and complexation of surface warships arms.
Took part in designing, building, maintenance and commissioning of modern surface warships for Russian and foreign fleets, such as 1144, 1144.2, 1155, 1155.1, 956, 956Ý, 1164, 61ĚÝ, ĎŃ-500, 15, 16A, 25A.
Developed a methodology of ship design as a single integrate system and a complex approach to systems and complexes designing.
Directly participated in development of optimum functioning algorithms for such ships as cruisers Kirov, Peter the Great, Glory, large anti-submarine ship Admiral Chabanenko, and others.
Directed development and implementation of numerical methods for design solution evaluation while composing ship armament system by means of network simulation of armament systems and complexes interaction.
Directed development of a new formation principles for combat informing and controlling systems and ship systems of data exchange.
Directed and participated in implementation of CAD systems.
Awarded with the Order of the "Labour Red Banner", the medals "For Distinguished Services" and "300-year Anniversary of the Russian Fleet".
Married, with a son.


go back

go top

go home

russian version