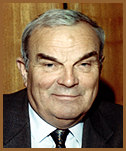 Pashkevich Igor Aleksandrovich
Graduate of Leningrad Institute of Railroad Transportation Engineering.
In 1956 he began his work at Proletarsky Factory and went all the way from machine tuner to General Director (1977). Igor Pashkevich personally participated in the creation and application of Russia's first licensed dock crane used on cargo ships. He also created steering machines and other ship mechanisms.
Initiator and leader of projects involving reconstruction of hazardous production facilities (galvanic, foundry, paint and polish, etc.).
Awarded five orders and many medals.
Director of Central Research Institute of Ship Devices, General Director of JSC "Proletarsky Factory", member of St. Petersburg Engineering Academy and of International Academy of Ecology and Environmental Safety, member of St. Petersburg Marine Assembly. Stock holder of Proletarsky Factory and of Central Research Institute of Ship Devices.
Married, has 2 daughters and 3 grandchildren.
Igor Pashkevich is communicable and sociable. He is independent in his decisions that involve the enterprise's production-related and social affairs.


go back

go top

go home

russian version