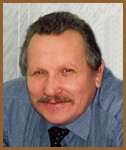 Ovodov Boris Aleksandrovich
Director General, SMU-Petrosvyaz (Construction and Installation Department).
Born in 1950. In 1984 graduated from the Leningrad State University as an economist. Worked as the head, Repair and Installation Department JSC PTS and then Construction and Installation Department No. 1 LTS. Married, has a son.
Ovodov B.A. "We are proud with what we are doing. Our organization connects people, lays electrical lines, designs and sets the local computer nets up. Fire protection systems we installed will help people to safe themselves in emergency, and quality major repair of residential constructions and production facilities will minimise the risk of accidents. Not building houses ourselves, we breathe a new life into them, the life that is full of feverish activity but at the same time is safe".
SMU-Petrosvyaz is a cohesive team of professionals, which like their job. The most valuable assert here is people. Every employer is interested in company's development and achievement of common goals.
Managers of the Construction and Installation Department, B.A. Ovodov and V.V. Grigorovsky, have enough experience and necessary managing skills. They know what to offer their clients and how to set tasks properly to the personnel.
SMU-Petrosvyaz tends to expand its services and establish direct contacts with organisations working in this market sector. SMU-Petrosvyaz has partners nearly around the whole North-West region.
SMU-Petrosvyaz uses high-quality and high-tech materials. The firm tries to uphold its reputation and answer for what was done.
The full list of SMU-Petrosvyaz works is also rather respectable:

1. Installation of telephones
design projects for telephones installation and their approval.
construction of outside (laying and installation of communication backbones) and inside telephone networks (laying and installation of distribution telephone networks inside buildings).
laying and installation of optical communication lines
2. Laying and installation of power supply lines
in a building: laying of cables, installation of electrical circuits, lamps, etc.)
laying of backbone transmission lines (laying of power cables in the ground, in canalisation systems, in pipes, in walls, etc.)
mounting of couples on electric cables of any purpose.
3. Installation of outside and inside radio and television networks (low-power works).
laying of vision cables in a building for cable and on-air broadcasting.
mounting of joint-use antennas for all television channels
laying of a subscriber's radio cable in a building
connection to an external radio broadcasting network.
4. Local computer networks
designing
installation and setup
laying of twisted-pair cables, coaxial cables, optical cables in walls, in chutes, in cable channels
installation of computer sockets, distributed frames
laying of a self-contained electrical circuit for a computing net (with sources of no-break power supply and without them)
equipment and software supply
5. Civil Building
major repair of residential houses and production facilities
interior finishing in offices and production facilities.
6. Earthwork
construction and major repair of telephone canalisation
construction of grounding mats
7. Mini-ATE
supply and installation of office mini-ATE of different capacity and configuration
installation and programming (by Customer's request)
laying of an inside network for an office ATE
8. Protection Systems (alarm, fire-protection, sprinklers and smoke removal systems)
designing
mounting and adjusting
9. General contractor functions

SMU-Petrosvyaz
St. Petersburg, Pestelya Str., 11, A, room 3H
Tel.: (812) 279-09-29
Tel/Fax: (812) 279-00-26





go back

go top

go home

russian version