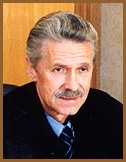 Nikonov Igor Nikolayevich
General Director of JSC "SevZapTransStroy Complex", St. Petersburg
Born on December 11, 1939 in Leningrad.
Graduated from the Leningrad Institute of Railroad Transportation Engineering in 1962, specializing in railroad construction. Graduated from Palmiro Togliatti Institute of Engineering and Economics, Department of industrial production and construction organization, in 1975.
His work career started in 1962 at "SevZapTransStroy" construction complex, where he began as a foreman and finally became the complex's Director. He has worked in a technical aid program in the Republic of Mozambique in 1981-1984 as a specialist in civil engineering. Elected Chairman of the construction complex's united professional union committee. Headed by him, "SevZapTransStroy" became one of the largest construction companies in the North-Western region of Russia involved in the creation of new railroad lines, in the construction of additional rail paths, in railroad electrification, in the building and restructuring of railroad stations, including depots and technical service facilities, in industrial and civil housing construction.
I.N. Nikonov participated directly in the construction of a number of unique complexes:
Oktyabrskaya Railroad's Computing Center building. This is the largest such center on the railroad system of the former U.S.S.R. The project has been awarded a diploma of the National Economic Achievements Exhibition;
Sea and river transportation stations with hotels in St. Petersburg;
Airports in Tallinn (Estonia) and Pskov;
Station complex in Tver;
"Promstroyproyekt" building in St. Petersburg;
"Lenvodokanalproyekt" Institute's building;
Large hospitals in St. Petersburg and Pskov;
The new sea port in Muuga Bay, Estonia;
Second rail routes on lines between Volkhovstroy and Lodeinoye Pole, on Siverskaya-Luga and Gatchina-Narva lines;
Development of railroad stations in St. Petersburg, Pskov and Novgorod;
Electrification of routes to Vyborg, Novgorod and Luga;
Oktyabrskaya Railroad's polyclinic, designed to hold 500 patients, in Velikiye Luki;
Oktyabrskaya Railroad's technical buildings in St. Petersburg;
Electrified railroad line between Volkhovstroy and Svir (the segment between Lungachi and Lodeinoye Pole, 90 km), and more.
Awarded "Honorary Transportation Construction Worker" (1989) and "Honorary Construction Worker of Russia" (1999) badges. Knows English and Spanish. His hobbies include sports (basketball, soccer and tennis), theater and tourism. I.N. Nikonov's family includes his wife Valeria Veniaminovna, his son Andrei and his daughter Yulia.
Work address: 191023, St. Petersburg, Sadovaya Street, 34
Tel.: (7-812) 310-1383
Tel./fax: (7-812) 310-1194

go back

go top

go home

russian version