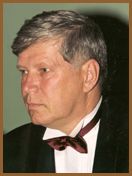 Knysh Mikhail Ivanovich
Director of "Dortekhnologii" State Unitary Road Enterprise since May, 1997, Doctor of Economics, member of the Russian Academy of Natural Sciences (Macroeconomics Section). Acting member of International Academy of Natural and Social Sciences.
Born on January 5, 1948 in Syktyvkar, Komi Republic. Graduated from the Leningrad Forestry Academy in 1971. Worked as sector chief, Deputy Manager of a greenery planting complex, Chief of the Leningrad City Executive Committee's special park construction board, Deputy Chief of the Leningrad Main Construction Board's economic planning department.
His wife, Ludmila Mikhailovna Knysh, worked in the area of city development. Mikhail Ivanovich has a 29-year-old daughter Yulia.

go back

go top

go home

russian version