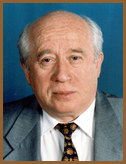 Golman Vladimir Mikhaylovich
President of St. Petersburg Union of Construction Companies, Deputy of St. Petersburg Legislative Assembly.
Vladimir Golman has been working in building industry for 43 years. Started his labor activity as a building trust rigger.
Since 1995 V. Golman has been presiding St. Petersburg Union of Building Companies that unites 300 building, project. Industrial and other enterprises of St. Petersburg.
V. Golman is a member of Russian Union of Builders board.
Within the bounds of program of the St. Petersburg historical center renaissance he headed reconstruction of several buildings in the center of the city: business centers at 25, Nevsky and "Neptune", office of "Industrial and building bank" at 17, Kovensky, "Credit Lionnais" bank at 10, Nevsky, Nevsky Palace hotel. He also headed foundation of 25 agencies of the city's historical center reconstruction.
He was chosen deputy of St. Petersburg's Legislative Assembly, where he is defending interests of building industry workers.
On Golman's initiative, Legislative Assembly passed 3 laws on investments regulation, St. Petersburg's law "On state support of investments into house-building industry by St. Petersburg".
He introduced the system of mortgage lending in St. Petersburg. Owing to that, the first in Russia North-West branch of Federal mortgage lending agency was established, and the St. Petersburg's law "On development of mortgage lending in St. Petersburg" passed.
As a Legislative Assembly deputy, V. Golman takes an active part in implementation of a number of social programs in St. Petersburg. Thus, St. Petersburg has fully implemented Federal Law on veterans.
Serving his second term in Legislative Assembly, V. Golman proved to be an influential politician, exerting influence upon relations between legislative and executive powers of the city. Thus, V. Golman is contributing a lot into establishment of social and economic stability in St. Petersburg.


go back

go top

go home

russian version