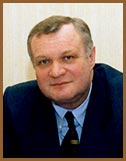 Garyugin Vladimir Aleksandrovich
Chief of St. Petersburg Metro System unitary city enterprise.
Born in 1950. Graduated from Leningrad Institute of Railroad Transportation Engineering, specializing in automatics, telemechanics and communications in railroad transportation. After graduation Vladimir Aleksandrovich has worked in Oktyabrskaya Railroad System. Since 1983 he has been working in the Leningrad Metro System, where he soon headed one of the enterprise's leading subdivisions, its train motion service.
In 1990 V.A. Garyugin has been elected Chief of St. Petersburg Metro System by decision of the working team's conference. The new leader had quite a difficult task ahead of him: at this time of major economic, political and social change it was necessary to adjust a complex mechanism that the city's subway system is to radically new conditions without stopping this undergroung transportation machine to a single second. This task was successfully accomplished. The subway did not lose its reputation of the safest and most comfortable type of city transportation. On the contrary, it developed and improved continuously. Eight new stations and Vyborgskoye electric depot began operating, the new "Motion" system has been developed and is being successfully applied, passenger service was put onto a cardinally new level after the introduction of the electronic payment system.
Vladimir Aleksandrovich Garyugin represents the interests of St. Petersburg Metro System in the Association of Subway Systems of Russia and of the CIS, in the International Public Transportation Union.
V.A. Garyugin has been awarded the Order of Friendship Among Nations, the Order of Honor, "Honorary Railroad Worker" and "Honorary Transportation Worker of the Russian Federation" badges for successful accomplishment of strategic tasks.


go back

go top

go home

russian version