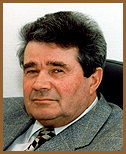 Dvorkin Gilil Moiseevich
Dvorkin Gilil Moiseevich was born December 2 1937 in Kalinkovichi town of Gomelskaya oblast in Byelorussia. In 1984 graduated from Leningrad finance and economy college where his major was "Industry scheduling". Started to work in 1958 as a common workman, and in April 1993 at the shareholders meeting was elected director general of joint-stock company "Trust-36".
Participated in building of largest national establishments in Leningradskaya oblast and St. Petersburg: "Fosforit" plant in Kingisepp, plants "Znamia Octiabria" and "Krasny Khimik", Leningrad electromechanical plant, Leningrad pasteboard factory, Kirov's mill industrial complex.
For his achievements in the building industry was given the following ranks: "Honoured builder of Russian Federation" (1995), "Honoured builder of Russia" (1997).
Married, has two daughters.

go back

go top

go home

russian version