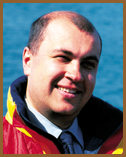 Blinkov Andrey Sergeevich
General director of "Impulse" Construction Company Andrey Blinkov: "So it happened, that the so-called "bedroom communities" have never differed much by their architectural appearance. We decided to change that. I think that new 25-storey housing estate will be some kind of a breakthrough for Kupchino district "
It's very hard to find a talented director who can form the basis of his own company. General director Andrey Blinkov is a man of that kind. He really can create a climate for effective work and run a business.
His work career started at Construction Board (CB) #11. There Andrey Blinkov has met the experts. From them he has gained experience and knowledge. After 5 years of work in the CB #11 a young specialist became a guru.
In 1997 Andrey Blinkov, together with Financial Director Igor Yakovlev and Commercial Director Anton Toropov, founded a new company called "Impulse". At first the company acted as an investor: it delivered building materials from different regions of Russia.
In the beginning of 1999 the company received the status of a licensed construction enterprise.
It is necessary to note that this was a responsible and courageous step: because of the uneasy situation in the real estate market the company had to start from nothing.
But as a result of the General Director's reasonable management, the company not only kept afloat, but also won several important victories.
Andrey Blinkov is not only a builder, but also a sportsman. Since his very youth he has been quite keen on technics. At first, it was a motorcycle, then watercrafts and snowmobiles. Not so long ago Andrey Blinkov was the President of Saint Petersburg's Aquabike Federation and Vice President of Russia's Aquabike Federation.
In May, 2001 Andrey Blinkov and Igor Yakovlev with mechanics Mikhail Kolesov and Vladimir Petin became members of professional racing team OSTO "NOWERC". They have won the first prize in "White Nights" rally and the second prize in "Sestroretsk" rally.
Today "Impulse" acts as a construction and general investment company.
One of the illustrations of the company's successful activity is the 16-storey buildings that will be constructed on Tambasov Street and Shlisselburgsky Prospect.
Recently the company has started a 14-storey housing estate not far from the shore of the Gulf of Finland. This building is interesting because of its 3-meter high ceilings, big windows, wide doors, and also because of its bathrooms with balconies. Four stores are to be placed on the ground floor.
An elite housing estate called "Twin Peaks", consisting of two 25-storey towers, is in the company's nearest plans. This individual project has been designed by JSC "Eagle Group Saint Petersburg". Everything in the building will be for comfort of its tenants: an underground garage for 145 autos, a laundry, a room for children, a gym with sauna and a pool.
The efforts of "Impulse" Construction Company's specialists are directed towards gaining and maintaining the trust of their clients.


go back

go top

go home

russian version