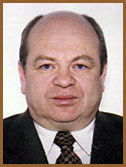 Tomchin Grigory Alekseevich
Born on December 4, 1947, in Leningrad. In 1972 graduated from the Leningrad Shipbuilding Institute (designer). In 1995 was awarded with the medal "For Services for the Motherland".
His labour activity began in 1972 as a designer in the Leningrad Design-Customs Bureau Rubin, where he worked till 1992 as a designer, acting head of a sector, then as a leading engineer.
In 1992-1993 headed the department of economical researches in privatization, the North-West Agroindustrial Exchange; was an expert of the Economical Reform Committee, Supreme Council of the Russian Federation.
In 1992 participated in development of the state privatization program.
In 1993 worked in the State Institute of Privatization Problems as a head of a department.
In 1993-1994 - the head of the department of industrial, building and infrastructure enterprises privatization, the City Property Management Committee, the St. Petersburg Administration.
In 1994-1996 - a deputy of the Russian Federation State Duma.
In 1996-1999 - headed the All-Russian Association of Privatised and Private Enterprises.
In December 1999 - elected Deputy of the RF State Duma of the third convocation; Deputy Chairman, the ST Committee of Property.
Since 1996 up to now - a member of Russian Tripartite Committee of Social and Labour Relations from the direction of employers, a member of the Coordination Council of Russian Employers Unions, a member of the analytical group of relations with regional political parties divisions, the leader of the St. Petersburg division of the Right-Wing Union.
Married, has a daughter.


go back

go top

go home

russian version