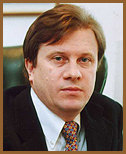 Savelyev Vitaly Gennadievich
Financial vice-president of joint-stock company "Gazprom".
Vitaly Saveliev was born January 18, 1954. He graduated from the Heavy Engineering and Mechanics Department of Leningrad Polytechnic Institute. Vitaly Saveliev's career started during the construction of the Sayano-Shushenskaya Hydroelectric Power Plant. In seven years, he climbed the career ladder from rank-and-file engineer to master designer in a KrasnoyarskGesStroy group enterprise. When the Sayano-Shushenskaya HEPP was completed, Vitaly Saveliev returned to Leningrad where he got a job as assistant manager of a national industry group, Sevzapmetallurgmontazh. In 1986, without leaving his job, he completed a second college degree at the Togliatti Institute of Engineering and Economics. In 1987, Vitaly Saveliev became assistant manager of Glavleningradinzhstroy, an engineering and construction combine. In December 1988, he established and became the manager of the Leningrad branch of the Soviet-US joint venture Dialogue, one of Russia's pioneers in computer hardware and software dealership. In 1989, Vitaly Saveliev co-founded and was elected to the Board of Directors of DialogueBank. From 1990 to 1993, he was President of the Soviet-US joint venture Dialogue Invest. From 1993 to 1995, Vitaly Saveliev was Chairman of the Executive Committee of Rossiya Bank. In November 1995, he established MENATEP St. Petersburg, and has since stood at its helm as Chairman of the Bank's Executive Committee.
Vitaly Saveliev is also Member of the Board of Baltika Brewery, ZENIT Football Club, Lentechgaz, and Izmailovskaya Perspektiva; member of the Council for Commercial Bank Liaison at the office of the Chairman of Executive Board of GAZPROM; and Member of the Board of the St. Petersburg Association of Commercial Banks.
Vitaly Saveliev won a prize as Russia's Best Finance Manager in a competition run by Kompaniya business weekly. In 2000, he was rated among Russia's top 100 most powerful entrepreneurs by Expert magazine.
Vitaly Saveliev is Doctor of Business Administration, Pre-Doctor of Economics, and correspondence member of the International Academy of Information Science.


go back

go top

go home

russian version