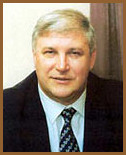 Kuznetsov Sergei Ivanovich
Born in 1953 in Rustavi, Georgia.
In 1975 he began working at Leningrad's communications enterprises: first at the Petrogradsky Telephone Node, and then, after graduating from the North-Western Correspondence Polytechnic Institute, he worked as Sector Chief, as Head of the Leningrad Telephone Network Headquarters' Computing Center and as Chief Engineer of the Nekrasovsky Telephone Node.
In 1992 S.I. Kuznetsov has headed Russia's first cellular communication company, AO Delta Telecom. In 1995 he participated in the creation of and became first General Director of OAO Telecominvest.
S.I. Kuznetsov is a member of several telecommunication companies' boards of directors, such as OAO PTN, OAO Telecominvest, ZAO PeterStar and some others.
Since 1998 S.I. Kuznetsov has been General Director of PeterStar telecommunications company, one of the largest digital optic fiber communications operators in the North-West of Russia.
Since 2001 - Director General, Joint-Stock Company Rostelecom.

go back

go top

go home

russian version