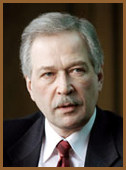 Gryzlov Boris Vyacheslavovich
Minister of Internal Affairs of the Russian Federation.
Born December 15, 1950 in Vladivostok. His father was a military airman, a veteran of World War II. His mother worked as a teacher. In 1954 the Gryzlov family moved to Leningrad.
In 1973 Boris Gryzlov has graduated from V.A. Bonch-Bruevich Leningrad Electrotechnical Communications Institute, specializing in radio engineering.
He has worked as an engineer in a research and production association at Power Radio Engineering Research Institute. Since 1977 he has worked at Electronpribor Production Association's electronics center. In 1997 he became one of the founders of JSC "Electronpribor".
Boris Gryzlov acted as founder of a number of organizations, both commercial and non-commercial. He was a co-founder of PetroZIL enterprise. Since 1996 he has been the Director of Baltic State Technical University's New Technology Education Center.
In December 1998 he has balloted for the Legislative Assembly of St. Petersburg unsuccessfully. Since 1998 until 1999 he has been President of "Development of the Regions" interregional business cooperation fund.
In 1999 he has headed the St. Petersburg division of "Unity" ("Yedinstvo") interregional political movement. On December 19, 1999 he has been elected deputy of Russia's State Duma's third assembly.
Since January 12, 2000 Boris Gryzlov has been Chairman of "Yedinstvo" faction. He was appointed the faction's representative in charge of relations with the "Big Seven" international club. In 2000 he received the title of a Major.
Mr. Gryzlov is fond of sports and loves history.
His wife Ada Viktorovna is the Prorector of St. Petersburg Institute of Accelerated Training for Administrative Leaders. The couple has a son named Dmitry (born in 1979) and a daughter named Evgenia (born in 1980).
On March 28, 2001 Boris Gryzlov has been appointed Minister of Internal Affairs of the Russian Federation.


go back

go top

go home

russian version