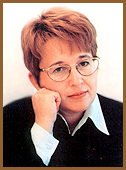 Dmitrieva Oksana Genrichovna
Deputy Chairwoman, the State Duma Committee of Budget and Taxes.
Born in 1958, in Leningrad.
In 1980 graduated from the faculty "Economic Cybernetics" of the Financial and Economic Institute named after Voznesensky with the specialty "Economist -Mathematician". After graduation worked in the Problematic Laboratory of the Regional Economic Investigations as an economist. Since 1981 till 1985 - a senior staff scientist, headed the sector of a regional economic mechanism.
In 1991-1993 organized and headed the Problematic Laboratory of Regional Diagnostics.
Was elected as a deputy of the State Duma for the first and second convocations, in 1993 and 1995. Heading the subcommittee of budget, off-budget funds and relations with PF subjects budgets, actively participated in working up of budget projects. In 1994-1995 achieved adoption of her program for high schools support. As the result of this program 12 St. Petersburg universities got an additional financing. In 1995 she initiated a separate program for building of hospitals, clinics and diagnostics centres.
In May 1998 was appointed the Minister of Labour and Social Development of the Russian Federation. In September 1998 was discharged because of the RF Government dismissal.
Since October 1998 till December 1999 worked as Professor at the chair of Economics Theory and World Economics in the St. Petersburg State University of Economics and Finance.
In December 1999 was elected a deputy of the State Duma of the third convocation. Since November 1998 - a chairwoman of a regional department of the social and political movement "Development of Entrepreneurship" in St. Petersburg. Nowadays is a deputy chairwoman of the State Duma Committee of Budget and Taxes.
In March 2000 established and headed an electoral block for St. Petersburg municipal elections - "Block of Oksana Dmitrieva". Working in the State Duma of the first, second and third convocations introduced several bills for improving a social position of the poorest groups of society.
In 2000 achieved adoption of a bill giving the status of the Great Patriotic War participant for persons awarded with the Medal "For Leningrad Defence", which allowed 80 thou. people to get an extra pension. Deals with health and educational programs in St. Petersburg.
An author of the Budget Code of RF. Doctor of economic sciences, Professor. In 1985 became Candidate, in 1992 - Doctor. Has three published monographs, more than 60 scientific works.
The husband - Grachev Ivan Dmitrievich - is a deputy of the State Duma. Has a son.


go back

go top

go home

russian version