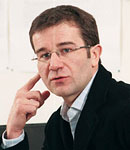 Zherebtsov
Oleg Viktorovich
The Chairman of the Group of Companies "LENTA" and the Chief Executive Officer of the Group of Companies "LENTA".
Born in 21 May it Bryansk city, graduate of the Leningrad's Institute of Mines (1993).
Zherebtsov O.V. is a founder of the "LENTA" trade complexes in St. Petersburg. Since 1993 till 2003 he was the CEO of the "LENTA" Company. Since November 2003 till present day he is the Chairman of the Group of Companies "LENTA" and the CEO of the Group of Companies "LENTA".
The Company was founded in 1993, today "LENTA" is one of the leading Russian enterprises specialising in classic wholesale trade and retail sphere on the self-service principle.
Zherebtsov O.V. considers trade as a large-scale business to help people to live better and richly.
"At present "LENTA" trade complexes are daily visited by 40 thousand customers, and I'm glad that people in our country have got the civilised service that has been unavailable for many long years. I want "LENTA" to be the best enterprise in the country not as a money matter but as a service, its quality, the stability at work".
Zherebtsov O.V. is married and brings up his daughter.
His hobby is Alpine skiing, astronomy, reading of the special literature.
The date of the Company's establishment is 1993.
"LENTA" represents 6 trade complexes in area from 4 800 to 20 000 sq. km located close to the city's main highways;
"LENTA" trade complexes are notable for their ware's high quality, proper production, vegetable, fruit, meat and fish departments availability, spacious parking and round-the clock services;
Average trade extra makes up 11% (other companies vary from 15%);
Range of commodities numbers 8000 items. Term of inventory turnover averages 8-10 days;
Discount Cards System presents more than 300 000 fixed customers;
The number of checks per 1 day in 5 trade complexes averages 35 000 items;
The Company's Staff is 2430 people including 125 office members;
The Company possesses the modern informational system to offer customers the range of goods they need; to maintain optimal stock resources in each trade complex and to provide the staff with all necessary information in the real time order;
One of the main objectives of the Company is to become a leader on St. Petersburg's retail market and regional retail markets of the Northwest area of Russia.
List of "LENTA" Companies:
"LENTA-1", 16 Energetikov Avenue,
"LENTA-2", 112 Savushkina St,
"LENTA-3", 33 Pulkovskoe Highway,
"LENTA-4", 69 Bukharestkaya St,
"LENTA-5", Vyborgskoye Highway (to be opened in September 2004),
"LENTA-6", 159 Tallinskoye Hyghway.
| | |
| --- | --- |
| Contact telephone numbers: | +7 (812) 380-61-33, 380-61-50 |
| E-mail: | |

go back

go top

go home

russian version