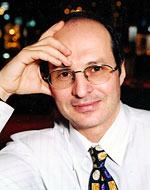 Tsivin Konstantin Eduardovich
Chief Executive Officer of the «Dom Laverna» Chain Store.
«There is no any maximum.
As soon as you put a high border
you start to de-motivate yourself».
Konstantin Tsivin
Born in 1961 in Omsk, in the family of man-of-war's man. Having finished a high-school in 1987 he entered the Leningrad Technical Institute, Physics and Mathematics Department.
In 1985 he received an engineer-physicist speciality and was assigned to the Klimov Factory.
The assignment proved to be successful, since a yang engineer started his career in the famous team headed by Shkolnikov B.G. – in the eightieth the author of the widespread method of the air-engine compressors calculation. In 1990 the external-economy department attached to the factory started its activity. Tsivin was authorised to head the new-opened department and he had been working there till the end of 1994.
In 1994 he continued his career as a Marketing Director at the Joint Enterprise founded by the factory and the branch of the Canadian Company «Pratt&Whitney».
The December of 1996 radically changed Tsivin's career biography. He started his work as a vice-president in the largest distributor-company «Uniland». Like many top-managers in Moscow and St. Petersburg, who had ever worked in the «Uniland», Tsivin considers this company to be a real life school to produce talented managers.
Having received a considerable store of knowledge and skills, in November 2001 Tsivin switched to the «Laverna» Company. Just in two months he was appointed as a Chief Executive Officer of the «Dom Laverna» Chain Store fulfilling his duties till present days.
Konstantin Tsivin has a sixteen-years old daughter, her name is Galina and she is the most beloved and dearest person for him.
Beside interesting job and adorable daughter, he takes a great interest in sport. Among his favoured sports are tennis, volleyball and skiing. He transferred his venturesome treatment to the work from sport, since the same characteristics are both important in business and game process.
Konstantin Tsivin supposes that he plays a part of the Chief Executive Officer of the solid enterprise and he likes his part very much.
---

go back

go top

go home

russian version