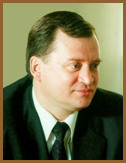 Trofimov Sergei Nikolayevich
President of JSC "Restek" Exhibiting Association.
Born February 15, 1957 in Leningrad in a family of engineers.
In 1978 Sergei Trofimov has graduated from S.M. Kirov Forrestry Academy in Leningrad, specializing in furniture production. He began his work at Leningrad Furniture Complex #1, which was later renamed "Baltika" furniture complex. He proceeded from a technician to a foreman from 1978 till 1980. Later he changed his job and worked for the district Communist Party committee in Kolpino. Since 1989 until 1993 he worked as Chief of the Organization and Supplies Department of Lenexpo exhibiting center. After that he has for five years headed "SPb-Express" exhibitinng firm.
Sergei Trofimov has been the President of JSC "Restek" since 1997.
Mr. Trofimov is Deputy Chairman of the Russian Federation Government's Commission on exhibits and fairs. He is President of the Association of Tourist Exhibition Organizers, Chairman of the Exhibiting Committee of "North-West" economic cooperation association, Deputy Chairman of Asian-Pacific Tourist Association's Russian division, Vice President of the Academy of Tourism, Vice President of St. Petersburg's Association of Tourist and Excursion Enterprises, Hotels and Restaurants. Member of the Russian Association's of Sports Goods Producers administrative board, member of St. Petersburg Committee's on Tourism and Resort Development collegium.
In 1999 Sergei Trofimov received a Candidate's degree in Economics. He spends nearly all his personal time on work. Sergei Nikolayevich is married and has a daughter.
Sergei Trofimov has published a number of books on tourism and the exhibition business, some of them in collaboration with other authors.

go back

go top

go home

russian version