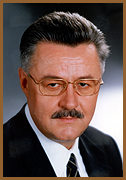 Novolodsky Yuri Mikhailovich
President of the Baltic Advocates' Bar.
After graduating with honors from Leningrad State University's Faculty of Law, Yuri Mikhailovich dedicated all of his professional life to advocate's service.
In mid 1980's, after 10 years of law practice, he became one of the leaders of Leningrad regional Advocates' Bar, acted as a founder of the U.S.S.R. Advocates' Association.
In 1991 he created the Russian Association of Civil Rights Advocates.
In 1992 Yuri Mikhailovich headed St. Petersburg's Board of Justice and became member of the City Government headed by first Mayor of St. Petersburg Anatoly Sobchak. He was elected deputy of city Legislative Assembly's First Congress. He has the title of second class State Justice Councillor.
In 1996 he retired from state service on his own accord and headed the Baltic Advocates' Bar.
Yu.M. Novolodsky is a universally knowledgeable lawyer, a brilliant court speaker, a remarkable representative of the lawyer's profession. He believes that the main objective of the Russian state is to strengthen the civil protection of its individual citizens.
Yuri Mikhailovich is also known as an author. His collection of short stories, titled "Re-judgement" (1997) is of undisputed interest to fans of humoristic prose.


go back

go top

go home

russian version