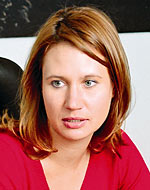 Matveeva Anna Aleksandrovna
Anna Matveeva, twenty eight years old, is the founder of the coffee shop's chain «Idealnaya Chashka».
Anna Matveeva opened the first St. Petersburg's coffee shop «Idealnaya Chashka» in 1998 at the Baltiyskiy Dom Theatre.
The first net-project started in 2000 – the coffee shop «Idealnaya Chashka» on Nevskiy Ave., 130.
From the very moment of the Company's foundation Anna Matveeva has been taking control over coffee shop's chain development. The chain consists of 14 coffee shops in St. Petersburg and 2 coffee shops in Moscow.
Anna Matveeva had been acting as General Manager of «Idealnaya Chashka» till July 2004. By now she's switched from the operative management to the strategic problems and the further development of the company.
In 2000 she graduated from St. Petersburg State University's Faculty of Sociology. During her study she visited USA by the English learning program.
In 2003 she received additional education on the professional development program in Stockholm Economics School.
Anna Matveeva takes a great interest in painting, motor races and traveling. She fluently speaks English.
Now days the coffee shop's chain founded, developed and headed by Anna Matveeva takes a share of 30-35% in the market in it's field.
«Idealnaya Chashka» is the absolute leader of the coffee shop's market in St. Petersburg.
Contacts:
E- mail: info@idealcup.ru
Web site: http://www.idealcup.ru, http://www.chashka.ru
---
History of «Idealnaya Chashka's» Development.
«Idelnaya Chashka» – Photo Album.

go back

go top

go home

russian version