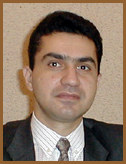 Lukjanov Andrey Valerjevich
Deputy Head of Investment Business, St. Petersburg Subsidiary of JSC Alfa-Bank.
Born in Turkmenistan, in a family of professional military men, on February 9, 1966.
In 1992 graduated from the Military Institute of Red Banner of the Ministry of Defence (more known as the Military Institute of Foreign Languages), then continued his education in the Economical faculty of the St. Petersburg State University (the speciality "International Economics"), got the excellent mark for his diploma work "The European Economic and Currency Union: Problems, Perspectives and Tendency of Developments"
In 1994 got a certificate of the Ministry of Finance for working on securities market; in 1998 - a Federal Committee of Securities Market certificate of director and controller of investment institutes.
Before resigning from the armed forces served in the General Staff, in the main administrative board of external military cooperation, mainly abroad (Mozambique, Uganda) in the Soviet military mission and the group of co-ordination of the UNO program for free food help to victims of civil wars, in areas of armed conflicts and military operations.
Till 1995 worked as a spokesman of a German industrial company in Turkmenistan in accordance with government programs for construction materials production and stone working, as a representative of AvtoGASbank in St. Petersburg. In the end of 1995 organized and till 2000 headed a St. Petersburg subsidiary of one of the largest investment companies ATON, which occupies a leading position on the Russian financial market. In February 2000 started working in JSC International Bank of St. Petersburg as the head of the Securities Department, was a member of the Bank's Financial Committee, managed securities portfolio.
Since July 2000 has been working in the St. Petersburg Subsidiary of JSC Alfa-Bank as a Deputy Head of Investment Business.
Married, has two sons.
His main care is the family, which he gives all his spare time. Likes classical music: Vagner, Mozart, Tchaikovsky.




Head Office:107078, M. Poryvaevoy Str., 9, Moscow
Tel.:+7 (095) 974-25-15, 207-60-01 Fax: 207-61-36
Plastic Cards Service Centre:
Tel.: +7 (095) 755-77-77
Twenty-Four-Hour Inquiry Service:
Tel.: +7 (095) 290-77-17


go back

go top

go home

russian version