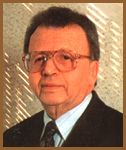 Heifetz Semyon Aleksandrovich
Attorney of the St. Petersburg City Bar.
Born in 1925. After receiving his honours school attestate in the besieged city of Leningrad in 1942, he fled to the war front line as a 16-year old boy and found himself in the midst of the Stalingrad battle. First as an infantry man, and later as commander of an artillery weapon within the legendary Taman Guard tank division, he went through the entire war. He has been awarded many war orders and medals. From 1945 to 1950, while continuing to serve in the military, he simultaneously graduated with honours from the National Correspondence Law Institute. He has afterwards worked at public prosecution boards for nearly 8 years, where he became known for his brilliant knowledge of criminal law and for his rare oratorial talent.
In 1958 Semyon Aleksandrovich came to the Leningrad Public Attorneys' Board, and was able to achieve his colleagues' and clients' respect and recognition as soon as he began working at his new occupation. The famous "economic" criminal cases of the 1960's, the defense of dissidents in the 1970's, the recent cases of striking public resonance (the case of V.I. Kharchenko, head of the Baltic Shipping Company, being just one of them): these are all remarkable pages in the history of St. Petersburg Public Attorneys' Board, and the name of Semyon Heifetz is printed on them in golden letters.
Factory workers and academicians, writers and artists, public officers and civil right activists, celebrities and totally unknown people have all been among his clients. There is a great multitude of them, and the vast majority owes their freedom and good reputation to their defender, Semyon Heifetz.
Honourary member of numerous Russian and foreign attorneys' associations, awarded with highest signs of professional recognition, Semyon Aleksandrovich is a wise and delicate man, greatly popular among young people. His lectures gather full audiences. Today we, the lawyers of St. Petersburg, who have been fortunate enough to draw from S.A. Heifetz's life and professional experiences, may say a sincere "Thank You" to our Teacher.


go back

go top

go home

russian version