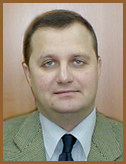 Guz Vladislav Stanislavovich
Vice President of JSC "Alpha Bank". Deputy Manager of Alpha Bank's St. Petersburg branch.
Vladislav Guz was born in 1967 in the town of Mariupol.
He graduated from Leningrad State University's Philological Faculty (English Department) in 1990.
Before he began working at Alpha Bank, V. Guz headed the St. Petersburg affiliate of Mytischi Commercial Bank.
Since 1996 he has been Deputy Manager of Alpha Bank's branch in St. Petersburg. He is in charge of active operations and of the clients' block.
V. Guz is married and has a 13-year-old daughter.




"Alpha Bank"'s main office: 107078, Moscow, M. Poryvayeva Street, 9
Tel.: +7 (095) 974-2515, 207-6001, fax: 207-6136
Plastic Card Service Center:
Tel.: +7 (095) 755-7777
24-hour Information Service:
Tel.: +7 (095) 290-7717

go back

go top

go home

russian version