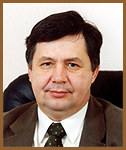 Gauz Andrei Nikolayevich
Director of "Barbaletta" Stevedore Company A.N. Gauz is at the same time Councillor of the Russian Presidential Administration's Committee on Transportation. He has been working at leading positions of the transportation industry's most important structures for over 15 years. His high professionalism, ability to evaluate global and domestic market conditions adequately and ability to achieve the maximal market value of the companies he has headed in short periods of time on the basis of optimization of internal resources have continuosly been in high demand by Russia's Ministry of Transportation and by largest foreign transportation companies. The list of transportation firms, both Russian and foreign, headed or founded by A.N. Gauz in recent years, is quite long. All these companies in the sphere of transportation have been able to achieve positive development dynamics and a well-deserved favorable image rather rapidly. As Director of the U.S. transcontinental forwarding enterprise "Fritz Companies", A.N. Gauz developed and successfully realized practically all types of technologically complex transportation projects in the North-Western region since 1993 till 1996. At that time he has also suggested to introduce a unique concept of strategic business development to founders of JSC "Barbaletta". The company has been created during a transition period in the development of market economy in Russia, when the breakdown of the united system of international marine transportation has had a negative effect on stevedore supplying of external trade routes. The task of creating a competible technological re-loading complex on the territory of Large St. Petersburg Sea Port that would be able to function successfully in the conditions of market economy has been formulated. This task has been optimally solved by JSC "Barbaletta" through the creation of a highly-mechanized transportation complex on two wharfs belonging to Baltic Ship Mechanics Factory. The complex is designed to re-load general export-and-import cargoes. Since the creation of JSC "Barbaletta", its main areas of licensed activity have included:
Loading and unloading marine vessels with general import and export cargoes, including refrigerator cargoes;
Logistic assistance in "door-to-door" deliveries of international cargoes;
Transportation and forwarding services on the basis of applying high transportation technologies.
In order to satisfy the demands of cargo owners most fully, with the highest possible level of quality, "Barbaletta" is actively cooperating with chief economic subjects of Russia's transportation industry. It justly believes that professional partnership multiplies a company's capacities.
JSC "Barbaletta" values the trust manifested by Russia's government towards it very highly. Since 1998 the government of Russia has been taking advantage of "Barbaletta"'s services in the shipment of goods through the Northern trade direction and in delivering foreign humanitarian aid to Russia. At the verge of the 21st century JSC "Barbaletta" is preparing to carry out a large-scale project under a strategic motto "Towards Leadership through Development". By applying the most advanced developments in modern loading and unloading processes, both Russian and international, the company is steadily developing its technical production base.
JSC "Barbaletta" possesses highly qualified personnel. Many of the company's workers have been awarded governmental prizes for their fruitful labor.
The range of services offered by JSC "Barbaletta" to shipping companies is sufficiently wide. The quality of the company's services has been tested by time.
JSC "Barbaletta"'s business partners include some leaders in the transportation and forwarding market, as well as Russian exporters and importers. "Barbaletta" has for 9 years had a stable image in the sector of marine transportation services market it occupies. "Barbaletta" is a member of St. Petersburg's Trade and Finance House. Its financial potential, composed only of the company's own resources, allows it not to depend on unfavorable external factors, political and economic, that may restrain its development. This enables the company to achieve successful realization of its promising investment projects that are aimed above all at carrying out the entire complex of transportation demands imposed by the clients through the introduction of high technology.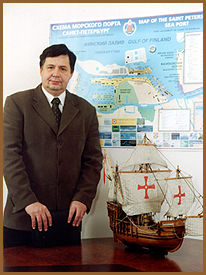 In the year 2000 A.N. Gauz has headed JSC "Barbaletta", responding to an offer of the company's founders. Its financial standing was at that time somewhat lowered by the August 1998 default. Fairness requires us to note that within 6 months after A.N. Gauz entered the post of the company's Director, it achieved its highest rate of cargo volume growth and showed record-high figures of its re-loading capacities. At the present time "Barbaletta" is specializing in processing high-revenue foreign general cargoes (including refrigerator cargoes). These cargoes make up 15% of the total volume of general imported cargoes received at St. Petersburg Sea Port. These figures emphasize the trust towards "Barbalett" demonstrated by Russian and foreign partners. A.N. Gauz formulates the "secret" of "Barbaletta"'s fast success as follows: "Our clients are certain that they are paying for the guaranteed quality of our work, rather than simply for a given list of services". When a new model of transportation market development is formed, the activities of any transportation company will go through unavoidable changes. This relates, above all, to the widened volume of services in accordance with the clients' growing market demands. Such enlargement of the set of services provided by "Barbaletta" prevents it from organizing its transportation services within the limits of a single company. The multi-modal service in highest demand among owners of international cargoes today requires a comprehensive approach to it within the framework of an optimally organized system of multi-modal cargo transportation.
In connection to this, Andrei Gauz is completing the formation of a highly effective logistic system of multi-modal cargo transportation services, which will allow the company to lower transportation expenses to 10% of the current level in the interest of international cargo owners.
Narrowly specialized tasks in A.N. Gauz's overall system are reliably carried out through the use of the following structural elements:
Commercial bank: a financial instrument for the realization of the investment policy in the system described above. Aside from this, the bank carries out external trade financing in the interest of its permanent clients. It provides bank guarantees to customs boards, obtains passports for export and import contracts, etc.;
Two transportation and forwarding companies: they provide a reliable logistic framework for "door-to-door" external trade transportation;
"Barbaletta" Stevedore Company: provides processing of export and import cargoes with maximal safety and at a low cost in shortest possible time periods at its own re-loading wharf complex in St. Petersburg;
Customs broker with an international image;
Charter broker.
Today this well-organized and mobile system, optimally managed by A.N. Gauz, already allows domestic and international cargo owners to save up to 10% of the transportation fraction of the cargo's cost during intermodal "door-to-door" transportation.
Director A.N. Gauz invites domestic and international business organizers for mutually advantageous civilized partnership and, on behalf of JSC "Barbaletta", expresses his gratitude to all companies that have worked with "Barbaletta" within the past 10 years and continue to grow with it.

198098, Russia, Saint-Petersburg, pr. Marshala Govorova 8-a
E-mail: barbaletta@meat.ru
URL: http://www.meat.ru/
Phone: (812) 185 06 16
Fax: (812) 183 06 05


go back

go top

go home

russian version