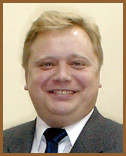 Bezrukikh Sergei Borisovich
Deputy Manager of JSC "Alpha Bank"'s St. Petersburg branch.
Born in Leningrad in 1966.
Graduated from Leningrad Finance and Economy Institute's Faculty of Economics and Finance in 1991. He began working for Promstroibank, where since 1991 until 1993 he has occupied positions of consultant, lead consultant, chief consultant and Deputy Chief of Economics and Commercial Activity Administrative Board's Factoring Department. Since 1994 he continued working in the bank's Operations Administrative Board. At the same time he has been attending a course on crediting at JSC "St. Petersburg Construction Bank"'s (PCB) School of Banking. He has also gone through professional training in personnel management.
In 1995 Sergei Bezrukikh started working at AKB NGS Bank's St. Petersburg branch, where he occupied the positions of Chief of Credit Department, of Deputy Manager and Manager of the branch. He was trained in international economics at the bank and received an appropriate certificate.
In 1996 he received the position of Manager of JSC "PCB"'s Pavlovsky branch. In 1997 he was transfered to the bank's central management network, taking the position of Chief of Private Customers Board.
Since 1998 Sergei Bezrukikh has been working as Deputy Manager of JSC "Alpha Bank"'s St. Petersburg branch. He is in charge of customer service and plastic card issues, as well as of correspondence and transactions.
Mr. Bezrukikh is married with two children: a son and a daughter. He is fond of fishing and hunting. Since recently he has also been entertaining himself by gardening.




"Alpha Bank"'s main office: 107078, Moscow, M. Poryvayeva Street, 9
Tel.: +7 (095) 974-2515, 207-6001, fax: 207-6136
Plastic Card Service Center:
Tel.: +7 (095) 755-7777
24-hour Information Service:
Tel.: +7 (095) 290-7717


go back

go top

go home

russian version