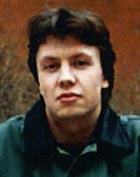 Yarygin Alexey
Alexey Yarygin was born on August 15, 1969 in Leningrad (St. Petersburg that time), Russia.
Artist, member of international Union of artists, poets, writers & musicians (Union I)
Member of Artistic Association of Strasbourg (Association du Corbeau)
Member of International Federation of Artists (IFA)
He studied at the Leningrad State University (1986 – 1992), graduated from Saint Petersburg Academy of Contemporary Art, and participated in the master classes of Felix Volosenkov.
Yarygin's work has been shown in 34 personal (solo) and many group exhibitions in Russia, Finland, Germany, England, Estonia, France, Luxembourg and the U.S.
Yarygin participated in a few International Biennale of visual arts & Art Shows.
His paintings are found in:
Collection of State Russian Museum, St. Petersburg, Russia.
Collection of State Museum Of Art, Republic Tatarstan, Kazan, Russia.
Collection of Konstantinovsky Palace Museum, St. Petersburg, Russia.
Collection of State Museum of Art, Komsomolsk-na-Amure, Russia.
Collection of Tver State Art Gallery, Russia.
Collection of Museum of Nonconformist Art, St. Petersburg, Russia.
Collection of Contemporary Art Gallery "Aurora", Tver, Russia.
Collection of Diaghilev Art Center.
Collection of The A.S. Popov Central Museum of Communications, St. Petersburg, Russia.
Collection of Mark Rothko Center, Daugavpils, Latvia.
Mary Kay company collection (Moscow).
Collection of Jean Art Center, Seoul, Korea.
Collection of "Vagabond dog" Art Center, St. Petersburg, Russia.
Collection of "European Capital" Gallery, St. Petersburg, Russia.
Collection of "Master-class" foundation, Russia.
Collection of Association Du Corbeau, Strasbourg, France.
Collection of "Henrietten-Stiftung" foundation, Hanover, Germany.
Collection of Pushkin Culture Center, Luxembourg.
private collections of Russia, Germany, Italy, Finland, England, Korea, Canada, France, Luxembourg & the US.
Awards:
Golden Medal of 3-rd International Biennale of Visual Arts & Literature, status "Master of Fine Art", Ancona – Senigallia, Italy, 2012.
Diploma & Medal of Mark Rothko Art Center, 2009.
Diploma of Nancy Government – St. Petersburg Government, 2006.
Alexey Yarygin was included by I.C.A. Publishing Company (New York) as an artist, who presents contemporary art of Russia, to the international catalogs of the best world artists of 2011 (Vol. 3), of 2012 (Vol. 4, Vol. 5) & of 2013 (Vol. 6).
---
Please contact Yarygin by email or visit his website:
E-mail: yungoor@yandex.ru
Website: http://yungoor.narod.ru
Phone: +7(812) 273-36-96, +7–911-991-13-03
---
Photo Album of Yarygin Alexey.

go back

go top

go home

russian version