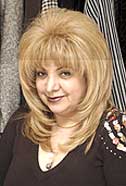 Minasian Dana
Fashion designer.
President of "Dana Minasian Fashion House".
Recently the fashion house celebrated its 10-th anniversary.
Having worked for many years in Armenia as a government designer, Dana arrived in the north capital in the beginning of 90-th. To conquer the Neva's stronghold she organized a small creative group, which within one year was transformed into the Fashion House.
The first defile went off successfully in the Officers Concert Hall in 1994. Once Irina Smolina, one of the TV-talking head in St. Petersburg, expressed her doubt if such gaudy colors can strike roots in rainy St. Petersburg? However Dana's creative work proved in succeeding years that her colors not only had struck roots in the city, but also highlighted it. Three foundations the designer's work is always based on are impeccable taste, lines and colors interlaced with one another in constant and true harmony. Not without reason glamour and sensual effect of Dana Minasian's fashion is often compared with impression from paintings of Armenian artist Sarian, whose works are full of similar color outrage and emotion embodiment.
Every single dress of Dana is a completed poetic image. This image is created from glaring and almost phosphorescent details and accessories as well as strict ascetic elements, which purpose is to emphasize subtly and elegantly a tsar pallet of colors and potential of the designer.
Only the most modern and up-to-day fabrics of leading Italian and French Fashion Houses, such as Armani, are used in Dana's Fashion House. But, as Coco Channel once noted: "The cost of idea considerably exceeds the cost of material," and Minasian's fashion amaze us with a plenty of new ideas.
When Dana is asked: "What is stylish today?", she answers: "It is stylish to be a glamour person!…". It means to express easily with your clothes your personality!
Contacts:
Address: Admiralteisky Prospekt, 8/1
Phone: 315-53-15
E-mail: dana-moda@mail.ru
---

go back

go top

go home

russian version