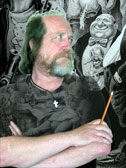 Lemehov Sergey
Caricature-painter, book graphic artist.
On the 29 th of March 1949 was born in Leningrad, in the family of an artist Ivan Lemehov.
In 1967 graduated from secondary art-school based on the grounds of Academy of sciences.
In 1973 graduated from architecture faculty of the Academy of sciences.
Since 1976 – competitor and participant of all union, regional, city and international caricature exhibitions (Italy, Bulgaria, Germany, Finland, Poland, Canada and etc.).
Some of his works are in private collections of Czechia, Finland, USA, Pittsburgh university (USA) and in the museum of humor in Gabrovo (Bulgaria).
Personal exhibitions
Moscow , Union of Artists, 2002
Saint Petersburg , 2004
Since 1991 Sergey works in book graphics, he had illustrated more then 300 books.
Publishing houses:
"Lenisdat", "Art literature", "North-West", "Armada", "Text", "Drofa", "Asbuka" to mention only few.
Latest works: author design of humor books series, published by "Drofa" publishing house: I. Ilf, E. Petrov, O'Henry, M. Saltikov-Shedrin, N. Gogol, M. Bulgakov, I. Babel, etc.
Member of Artists Union of Russia .
Deals with periodicals .
1966-1973 – participant of musical groups ("Ghosts" with A. Acadullin), ("Saint-Petersburg" bass guitar).
Sergey has brothers – Vladimir and Leonid (they are twins), artists.
Sergey Lemehov's Photo Albums:

go back

go top

go home

russian version