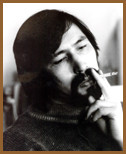 Latif Kazbekov
Born May 20, 1954 in Kazakhstan. Graduated from N.V. Gogol School of Arts in Alma-Ata in 1975. Graduated from I.E. Repin Art Institute's Faculty of Graphic Arts (Leningrad), where he studied the art of book illustration under Professor G. Epifanov, in 1981. Member of Russia's Artists' Association, laureate of various fine arts and illustration contests. Participant of over 250 exhibits that took place in Russia, in CIS countries, in U.S., Britain, France, Germany, Belgium, Italy, Sweden, Denmark, Finland, Poland, Czech Republic, in the Baltic states, in Cuba, South Korea and Japan. Created illustrations for over 60 books. Continues to work in the area of book and machine graphics.
Latif Kazbekov's personal exhibits have taken place in 1983, 1985, 1987, 1988, 1991, 1993, 1995, 1996, 1997, 1998, 1999 and 2000. His works are exhibited at museums in Russia, the CIS and the Baltic states, in numerous private collections in Russia and abroad. Latif Kazbekov lives and works in St. Petersburg.
The art of Latif Kazbekov is a constant act of balancing between traditional figurativeness and abstraction. His work combines symbolic and mystical thinking and academic skills, characteristic of St. Petersburg art school, with internal freedom of expression that characterizes abstract painters. A great connoisseur of nature who subtly feels the breath of the surrounding world, he, at the same time, is quite far from naturalism. Visual impressions are always in the background in his art, leaving space for internal vision. He skillfully utilizes realistic means of expression to create an imaginary universe in which recognizable realities, such as intricately distorted bush twigs, an exotic fruit or a running wolf, appear to us in a transfigured way, turning into certain generalized symbols. His concern for nature in the modern world and nostalgia for the lost harmony between man and his environment make up the moral basis of his art. The image of a dry tree, coming up often in his semi-abstract landscapes, is perceived as a sign of the internal alert that pervades all of his art.
A lyricist and a philosopher, he is sometimes not opposed to humor and willingly participates in the life of St. Petersburg's Bohemian artist circles by creating works dedicated to other artists and writers. This series of works is characterized by soft irony. These are characters expressed using the idiom of objects and symbols combined to form semi-abstract compositions, rather than portraits in the traditional sense of the word.
Latif Kazbekov is a multi-faceted artist who is a flawless master in various techniques and media. His favorite art medium is paper. He has a subtle understanding of its fragile nature, he loves to experiment with it, combining mixed drawing techniques with special methods of structural treatment.
A painter, a master of machine graphics, lithographics and water-colors, he is also rightfully considered one of the most popular illustrators of children's books. His deep sincerety and unimitable cunning humor combine in his illustrations with excellent knowledge of animal anatomy and movement. Over 70 books of Russian, Scandinavian, Arabic, Chinese and Japanese fairy tales illustrated by L. Kazbekov have made him a laureate of a number of honorary awards both in Russia and abroad.


By Dmitry Severyukhin
Latif Kazbekov's photo album


go back

go top

go home

russian version