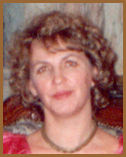 Fominichyeva Nadezhda Mikhailovna
N. M. Fominichyeva is the director of St. Petersburg Company of Classical Music.
She was born in Primorsk, which is in the Leningradskaya Oblast, into the family of engineers. She is married, has a daughter.
align="justify"N. M. Fominichyeva is professional manager, Ph.D. in technical science, author of 60 published reviews, of 7 inventions. She was defending her Ph.D. thesis under the guidance of re-known professor - B.G. Podporkin - in the Leningrad Polytechnical Institute (renamed by now to be the St. Petersburg Technical University). For a while, she lectured at the Institute as well as for the country's industrial military sector.
Later on, N. M. Fominichyeva took another direction in her scientific work and prepared dissertation titled "Psychology of creative abilities development among students" (her guide was Ph.D. in psychology, professor R. M. Granovskaya). It was this work that defined N. M. Fominichyeva further activities.
Since 1990 till 1997 N. M. Fominichyeva works together with "Aleksandr-PRINT", publishing house that specialize in production of the historical type of literature. Six books were published with N. M. Fominichyeva's direct partnership, these books made part of the Russian President Prize Fund. They are: "History of Russian State", "History of Russian Fleet", "History of Russian Military Formation", "History of the City of Moscow", "History of the City of St. Petersburg", "The Golden Ring". The uniqueness of these six books is not only in their informational content, but also in their original veneer: the books are enveloped in wide-format copper covers similar to ancient type of cases.
In 1999, under the guidance of N. M. Fominichyeva, "Papirus" publishing house issued a book - "Mariinka and My Life". The author of the book is re-known arts activist and conductor of the Mariinskiy Theatre, professor of the St. Petersburg Conservatory - Y. V. Gamalei. The book is memoirs of Y. V. Gamalei, where he widely depicts the theatre life of the period of 1929 - 1991 years. There are no analogues to such theatre life descriptions still. The book's presentation was given with success in the Mariinskiy theatre during its performance of "Don Quichot" ballet, and Y. V. Gamalei was conducting the orchestra.
In 2002, under the leadership of N. M. Fominichyeva, one important project was realized - was published a book about outstanding pianist, a student of Nikolai Rimskiy-Korsakov and I. Gofman - M. N. Barina; the book bears the name: " M. N. Barina - the student of the greatest". M. N. Barina's diaries are being prepared for publication, to realize it, participation of sponsors is necessary.
Today N. M. Fominichyeva is principal manager of St. Petersburg Company of Classical Music which bears the name of "Northern Star". This company is known not only in St. Petersburg but in Russia and abroad as well. The company is not only reviving the lost traditions of St. Petersburg private houses, such as saloon evenings in musical reception rooms. The tradition came to Russia in the 18th century from France. The concert programs are accompanied by dancing episodes and music of "barokko" style.
N. M. Fominichyeva is artistic manager to twelve TV programs in the series of "Palace Mysteries", where her "Northern Star" company was to represent all variety of their concert program.
N. M. Fominichyeva is producer of two audiocassettes - "Romances of Russian Nobles" and "Stay With Me" - plus one compact-disk.
N. M. Fominichyeva can be found at: St. Petersburg 191028, ul. Furshtadskaya 17, kv. 12 or through tel./fax: (812)-273-2028, mobile 8-911-212-3872, e-mail: masp@spb.cityline.ru

go back

go top

go home

russian version